Easy, Smooth and Quiet Rolling Solid Poly Wheels!
Product Announcement from RWM Casters Company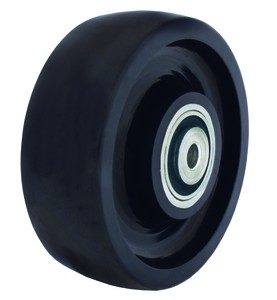 New and improved from RWM, our 60D premium solid polyurethane wheels take performance to the next level. High quality PTMEG polyurethane and extensive product testing have lead to a drastic increase in performance over current industry solid poly type wheels. When you're ready to take a step up in quality, performance and service life these wheels offer an excellent solution in noise reduction, rolling ease and all around rugged durability. Great for in plant assembly lines, tow lines, maintenance dollies, tooling and just about any other industrial application out there.
These wheels incorporate a robust metal bearing retaining sleeve which prevents pre-mature bearing failure from high speed high load applications. Keep an eye out as many solid poly wheels do not meaning that over time the metal bearings will deform the bore of the wheel leading to performance defects and eventual product failure.
Contact RWM today for additional product details or for direct assistance with your Material handling needs. Our high quality, US produced, time proven kingpinless caster products are the industry standard in high performance material handling goods. Customer service can be reached at 1-800-634-7704 or browse our website at www.rwmcasters.com for product specifics, technical information, whitepapers, and direct access to over 30,000 CAD downloads!
---