High-Performance and Robust BMR-Spring Connectors
Product Announcement from Radiall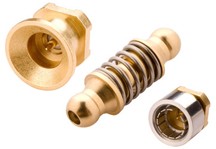 Radiall is proud to introduce the addition of its new high-performance and robust BMR-Spring large misalignment board-to-board connectors to their extensive offering of cost-effective sub miniature RF coaxial solutions.
Radiall BMR-Spring connectors can handle a minimum board-to-board or rack and panel distance tolerance of at least 0.078" (2 mm) with custom misalignment of 3 mm or more. It also features a 6 degree tilt radial travel.
A typical BMR-Spring board-to-board system is made of three parts - slide-on receptacle, symmetrical adapter and snap-on receptacle. Custom configurations are also available for board-to-board, module-to-module, or rack and panel applications.
The Radiall BMR-Spring adapter features a unique non-slotted spherical interface for improved electrical performance, high vibration and shock resistance, and an 80dB of shielding up to 3 GHz.
A self-alignment mechanism makes the BMR-Spring particularly ruggedized for blind-mate applications. The spring-loaded adapters are symmetrical to avoid any assembly issues.
Product characteristics
Impedance 50Ω
Frequency range of DC-8 GHz
Typical VSWR (board-to-board connection) 1.1 at 3 GHz
Power handling 350W at 2.7 GHz
Axial misalignment tolerance of at least 0.078" (2 mm), custom misalignment of 3mm+
Radial misalignment tolerance of 6° max
---