High Density Coaxipack 2...
Product Announcement from Radiall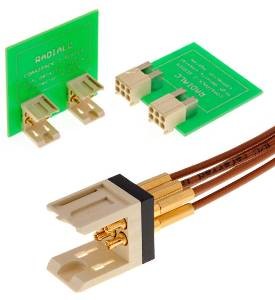 Features and Benefits:
Coaxipack 2 consists of coaxial inserts and plastic housings suitable for either PCB mounting or cable termination. Coaxipack 2 follows the 2mm metric standard and is stackable with most 2mm signal or power modules from other manufactures.
Improved interface design for a guaranteed connection
New insulator and center contact design to improve self alignment and guidance during mating;
New packaging to prevent bent pins or other damage during transportation and handling;
Frequency range DC-3 GHz;
Reduced interferences between coaxial lines;
Minimum reflection and propagation delay;
Metalized housings available for improved shielding.
Customers can choose either pre-assembled modules or cable-kits available in different configurations : 1x2, 2x2 and 3x2. Customized solutions are also available upon request.
Applications:
A broad product offering has been developed including 50 and 75 ohm connectors suitable for many different applications.

50 ohm applications include telecom/ datacom transmission equipment such as satellite communication systems, base stations or high speed data networks. 50 ohm Coaxipack 2 is also used in medical and military radio applications.

75 ohm connectors are typically used in backplanes in digital broadcast systems including routers, switching and control systems, monitoring and signal measurement.
---