LOW-COST NSX SERIES CONTACTS
Product Announcement from Radiall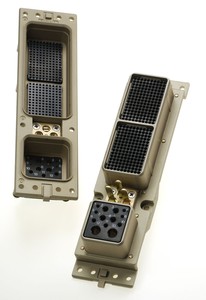 The new NSX Size 22 socket contact design reflects Radiall's commitment to innovation and offering its customers more value and performance. There is considerable drive in the aerospace industry to reduce costs. Because of the large number of Size 22 gold-plated socket PC tail contacts in many ARINC 600 receptacle connectors, any reduction in contact costs can significantly affect the overall connector costs.
Radiall has achieved significant cost savings for its customers by making design improvements to the contacts and inserts while maintaining a fully compatible and intermateable ARINC 600 connector:

The new NSX series combines a stamped and rolled clip inside a screw-machined body. This innovative approach of combining stamped and rolled parts with screw machined parts considerably reduces the manufacturing complexity-and the cost-of the contacts.
The screw machine contact body also features the following advantages:
Light gold plating on the clip has 1.27 μm (50 microinches) of gold as required by the ARINC 600 standard. In addition, it has flash gold on the contact body. Not only does this minimize the use of gold, it provides RoHS compliance by eliminating tin-lead on the solder tail.
Guaranteed low insertion force and low electrical resistance through the use of three points of electrical contact, in contrast to the two points of traditional screw machined contacts. In addition, the new design also avoids stubbing since the three spring center the pin during mating.
100% backwards compatibility not only with existing PCBs on which the PC-tail of the ARINC 600 contacts are soldered but also with existing pin grid array connectors where the PC-tail of the ARINC 600 contacts could be connected. The screw machining body of the new and improved contact design provides exactly the same PC-tail dimension as the current design.
This new contact technology is available in a removable version (fully compatible with existing shells and inserts), and in a non-removable version to used with the insert.
Today, applications use inserts composed of two insulators and an equal ratio of retention clips to the number of Size 22 cavities. The new and innovative Radiall insert design is made of a single high grade thermoplastic single piece.
This creative new design considerably reduces manufacturing costs and maintains the requirements for ARINC 600 environmentally, mechanically and electrically.
Although the contacts are pre-loaded by Radiall, the end user still has the ability to add more contacts as required by the application. Lowest ARINC 600 cost solution for contacts and inserts
Lightest weight solution for ARINC 600 connectors
Fully qualified under ARINC 600 specification requirements
100 % intermateable with any ARINC 600 plug
100% backwards compatibility with existing PCB and pin grid array connectors
The flexibility to install removable or nonremovable contacts
End users can install additional contacts even if they are nonremovable
Improved pricing stability as less gold means less dependence on fluctuating gold prices
100% RoHs compliant
---