NEW MML SERIES
Product Announcement from Radiall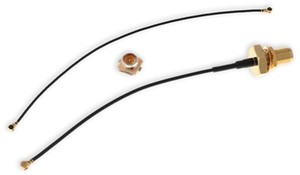 Features
There are three types of plugs with mated heights of H2.5, H2.0 and H1.5, as well as two types of vertical PCB receptacles with good electrical performance up to 6 GHz.
Fully compatible with U.FL™, W.FL™ and MHF™
Only two vertical PCB receptacles, one for MML H2.5 and MML H2.0, a second one for MML H1.5
Three mated heights 2.5 mm, 2.0 mm and 1.5 mm
PCB pattern as small as 2 x 2 mm for H1.5 and 3.1 x 3 mm for H2.5 and H2.0
DC – 6 GHz, typical VSWR 1.35 max
Applications
MML is suitable for applications such as cell relay, WiFi access points, GPS and other mobile terminals.

U.FL™ and W.FL™ are registered trademarks of Hirose. MHF™ is a trademark of I-PEX.
---