New Composite BNC 75Ω HDTV Connector
Product Announcement from Radiall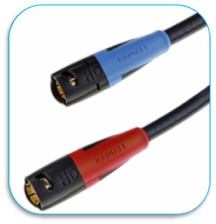 Radiall is the only company on the market today that offers the most advanced high-speed composite BNC 75Ω HDTV connector featuring an incredible easy-to-use two-piece design that makes it easy to crimp on the cable.
This new connector can handle data rates up to 3 Gbps or higher while meeting or exceeding SMPTE 292M and 424M standards. The gold plated center and outer contacts provide outstanding electrical performance with a frequency range of up to 6 GHz, and a low return loss of -32 dB at 3 GHz.
The connector's special curved interface composite material design with positioning marks makes it easy and fast to connect and disconnect from the rear in high-density and recessed bulkhead applications.
The first lightweight composite BNC 75 ohm HDTV connector available on the market
Easy-to-use two-piece design that makes it easy to crimp on the cable
Handles data rates up to 3 Gbps or higher while meeting or exceeding SMPTE 292M and 424M standards
Color-coded boots directly on the connector for easy video signal identification
Gold plated center and outer contacts provide outstanding electrical performance with a frequency range of up to 6 GHz, and a low return loss of -32 dB at 3 GHz
True 75 ohm design
1000 mating cycles minimum for guaranteed durability in the field
Connectors are perfectly matched to high-performance HD cables
---