New High Density Multipin Inserts
Product Announcement from Radiall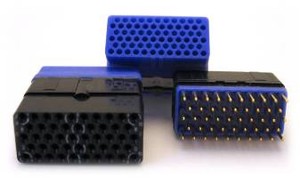 These two high density inserts offer optimized space for signal contacts, a gain of 20% more contacts for the 48 insert and of 72% for the 69 insert compared to the existing 40 (40 size 22 contacts) insert.
Features and benefits
With the ability to install the inserts within the entire range of EPXB® and QM connectors, the optimized inserts series offer many practical benefits
Tool-less insert installation
Contact installation with existing tools
Fully compatible with standard Radiall EPXB® and QM range of connector shells
Pin and socket inserts can be installed in either plug or receptacle shells
Environmentally sealed or unsealed versions available
A space saving solution
These new inserts bring greater integration flexibility to designers while maintaining the form factor of the existing EPXB® and QM connector series.
Applications
Although originally developed to support high signal contact density needs for modular avionics equipment, both inserts could also be used in disconnect applications.
Radiall's EPXB4® connector with the new 48 inserts (192 size 22 contacts) is currently flying on various airplane applications. This new configuration offers higher density than a legacy ARINC 600 size 1 connector (160 size 22 contacts) with a smaller dimensional envelope. In addition to being a blind mate rack and panel connector, the EPXB4® has the ability to be used in a traditional disconnect application which mates to two standard EPXB2® connectors.
With the integration of the 48 insert into the EN4644 standard, we are pleased to offer this innovative product to all our customers for applications which need high contact density as well as excellent electrical and mechanical performance characteristics.
---