QMA Connectors: QLF® Certified
Product Announcement from Radiall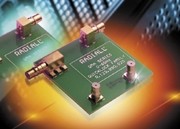 Standard connectors are also available for our Eco friendly cables (Halogen free, flame retardent). With a reliable and stabilized production, more than 30 part numbers are available on stock.
Snap-on version of brass SMA connectors
QMA series is a snap-on version of brass SMA connectors. Optimized from DC to 6 GHz, QMA connectors are usable from DC to 12.4 GHz with an intermodulation level of -120 dBc and high electrical performances.
Main advantages
It takes only two seconds to connect QMA connectors compared to 20 seconds for standard SMA screw-on connectors.
The utilization of QMA connectors allows optimization of panel density since no torque wrench is needed.
Field installation is eased as the plug can rotate freely around the jack and an audible "click" ensures of a well and secured connection.
---