VIP™ (Vision Inspection Pack) Software License
Featured Product from Radiant Vision Systems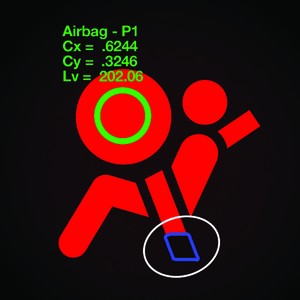 Evaluating backlit components—such as illuminated controls, instrument panels, and LED light strips—requires a unique measurement approach. The quality of an illuminated component is determined as much by its photometric qualities (brightness, color) as it is by the overall integrity of its illuminated regions (correct shape, free from defects). Accurate measurement requires precise registration of icons and shapes, ensuring that only the illuminated region is used to quantify photometric values and that defects can be detected. While photometric measurement systems excel at light and color analysis, they have traditionally lacked machine vision functionality that enables consistent registration of unique shapes, as well as overall inspection of shape or text quality.
Part of the Radiant Vision Systems TrueTest™ Software family, the VIP™ (Vision Inspection Pack) software license supplements the standard photometric analysis capabilities of TrueTest Software adding registration functionality for unique illuminated regions (backlit icons and shapes) to enable defect detection and accurate photometric measurement.


Photometric and Colorimetric Measurement
Leveraging the standard photometric analysis functions of TrueTest Software, the VIP license provides comprehensive photometric and colorimetric data for light source metrology. VIP increases the accuracy of photometric measurements in TrueTest for illuminated icons and shapes by adding registration for unique measurement areas.
Photometric data reported and evaluated using VIP in TrueTest Software includes:
Luminance (Lv, cd/m

2

)
CIE Chromaticity Coordinates (xy, u'v')
L*a*b* Color Scale

Correlated Color Temperature (CCT)
Dominant Wavelength (nm)

Dynamic Registration and POI Setting
VIP registers the exact area of an icon or shape for accurate photometric analysis and defect detection. In addition to measuring the photometric qualities of an entire icon, VIP allows custom points of interest (POI) to be applied within a registration region to evaluate photometric qualities of each icon based on POI values alone. VIP automatically locates and registers icons or shapes in new orientations (as components move or shift) while maintaining the same relative POI placement within each registration region. This ensures all icons in a series of components are consistently measured based on the same POI locations, without requiring users to maintain exact fixturing tolerances or reapply registration regions or POI locations for each component measured.


Symbol Quality and Defect Detection
VIP registration functions enable inspection of the integrity of each icon or shape according to a trained registration area, enabling users to pass/fail based on the presence of defects like inclusions or exclusions. Other defects in backlit icons and shapes may include dead LEDs behind the overlay or filter substrate, or particles within substrate layers. VIP detects these defects and can be set to fail components based on any obstructed area of the illuminated icon or shape.


Typical Applications
VIP enables inspection beyond standard TrueTest software capability to evaluate illuminated icons, text, and shapes according to human visual perception.
Automated visual inspection of backlit icons, text, and unique shapes; for example: illuminated indicators, buttons and controls, LED-backlit components (functional, accent), instrument clusters, and panels
Used to ensure quality of backlit controls and indicators in automotive assemblies, avionics, medical devices, appliances, and electronics
Photometric and colorimetric measurement within a region
Location and registration of regions for precise measurement and defect detection


VIP License Key Features and Highlights:
Adds machine vision inspection capabilities to Radiant TrueTest™ Software for advanced photometric measurement, including registration and defect detection.
Simultaneously inspects the integrity of icons and shapes while measuring photometric values
Accurately registers measurement regions and POI positions even if components move or rotate, simplifying component placement and system fixturing
Inspects multiple unique regions in a single measurement image
Provides rapid inspection of unique icons and shapes on backlit components in R&D or during quality control for a series of components in production