Webinar: Automated Inspection with Human Precision
Featured Product from Radiant Vision Systems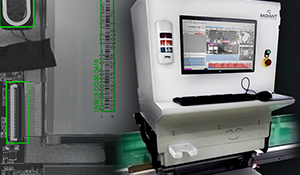 Today's electronics manufacturing processes are largely automated. However, final inspection for connected assemblies has lacked an effective automated solution that achieves both highly-repeatable and highly-accurate defect detection. At the final stages of production where internal components are verified before device enclosure, human inspectors remain the primary inspection method. This is due to superior human visual acuity and judgment over typical machine vision systems for complex visual analysis. However, human inspection lacks the desired autonomy and consistency of machines.

In this 30-minute webinar, host Davis Bowling, Regional Sales Manager for Radiant North America, presents a turnkey inspection solution that leverages advanced vision technology to achieve unrivaled accuracy and repeatability, bridging the gap between human inspectors and machine vision systems. Topics include:
Unmet challenges in assembly verification
Shortcomings of today's human and machine vision inspection solutions
INSPECT.assembly™ visual inspection station from Radiant
Example applications of advanced vision for assembly verification
An audience Q&A with the presenter follows the presentation.