Webinar: Ultimate Vision System for Backlit Icons
Featured Product from Radiant Vision Systems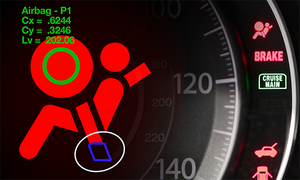 From illuminated automotive panels and avionics to backlit buttons and ports on electronics—light-emitting components require inspection to ensure quality according to specifications and standards. Backlit icons, shapes, and text are difficult to inspect not only because of their variety, but because their quality is determined by a combination of factors. Photometric properties must be measured to ensure accurate brightness, color, and uniformity of the illuminated area. Dimensional integrity must also be evaluated to ensure each area is free from defects and has the correct size, shape, and position. Photometric systems like spot meters excel at light and color measurement that reflects human visual perception, but these systems have historically lacked machine vision benefits like image analysis and registration functions that enable efficient measurement and defect detection within uniquely shaped regions. For this reason, evaluating backlit components has required multiple pieces of equipment or complex customization of machine vision software to ensure all inspection requirements are met.
Matt Scholz and Chris Williamson from Radiant Vision Systems present the first automated visual inspection solution to combine photometric measurement with machine vision image analysis and registration, enabling complete backlit component inspection in a single vision system. Matt and Chris introduce VIP™ (Vision Inspection Pack) software for Radiant's imaging photometers and colorimeters, and demonstrate its advantages over current systems for fast, hassle-free evaluation of illuminated components in lab or production-level inspection. Topics include:
Inspection considerations for backlit icons, shapes, and text
Solution comparison: spot meters, imaging photometers, and machine vision systems
The importance of precise and responsive registration of unique backlit areas
Combining photometry and machine vision in a single system for ultimate inspection efficiency
Software demonstration: VIP Software for backlit component inspection
An audience Q&A with our presenters follows the presentation and software demonstration.