7V - 50V RS232 Modem Modules
Featured Product from Radicom Research, Inc.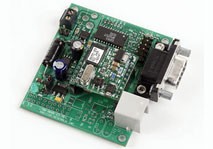 The modems will automatically accept DC power inputs ranging from 7V to 50VDC. (5V is also available upon request.) Models are available in data speeds from 2400bps, 14.4K, 33.6K to 56Kbps(V.92). Features include fax, voice playback/record capabilities, automatic Error Correction and Data Compression for optimum data throughput and accuracy. The modems are also capable of detecting Caller ID information, DTMF tones, Distinctive Ring signals, Extension Pick-up, and Line in Use. Other enhancements include Digital Line Guard protection to protect the modem from damage if accidentally connected to a digital phone line.
Features:
Supports 7V to 50VDC operation
-40°C to +85°C operating temperature
RS232 serial interface by DB9 connector or 2 x 5 pin header
RJ-11 phone jack on board
AT Command set
2400 bps up to 56 kbps data speeds downstream
Upstream data rate up to 48 kbps (V.92 Model)
Fax / voice playback and recording (except 2400 bps models)
DTMF and distinctive ring
V.44 data compression (V92 model) V.42 bis and MNP 5 data compression
MNP4 + LAPM Error Correction
V.29 FastPOS support
V.22 FastConnect support
Sleep Mode support
Power indication LED built-in
Line-in use detection
Caller ID
Call waiting detection
Extension pick-up detection
Digital Line Guard (DLG) Protection
Low power consumption
Power interfaces: - DC terminal block or 2 pin power receptacle - Power jack (optional )
Agency approvals:

Transferable FCC68, CS03 and CTR21 certifications
c/UL 60950-1 Recognized Component
RoHS complaint