Leased-Line & Dial-Up Modem V92MM4-TW
Featured Product from Radicom Research, Inc.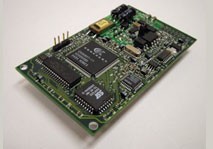 The modem features include -40°C to +85°C extended temperature operation, 2-wire leased-line or dial-up support and speakerphone functionality with microphone input. The V92MM4-TW supports ITU-T V.23 and is Bell 202 Compatible. It operates under synchronous and asynchronous data formats and is built to meet most major country telecom requirements.
Features:
Serial TTL interface
V.92, 56 kbps data receiving
14.4 kbps fax, Group 3, Class 1
DTMF recognition and decoding
-40°C to +85°C extended operating temperature
Low profile, 2.16" (W) x 3.65" (D) x 0.375" (H)
V.42, MNP 2-4 and 10-EC error correction
V.42bis and MNP-5 data compression
2-wire leased-line and dial-up support
Supports Synchronous and Asynchronous data formats
Voice playback and record with microphone input
Full-duplex speakerphone functionality
Caller ID support, call waiting
ITU-T V.23 support, Bell 202 compatible
FCC68, CS-03 (Industrial Canada) and CTR21 (EU) certified.