RB540 Class I, Bluetooth Audio Module
Featured Product from Radicom Research, Inc.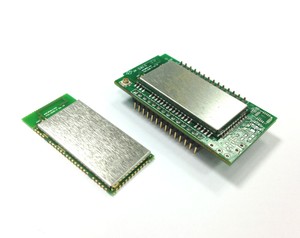 The RB540 series features a Class 1 Bluetooth data with simultaneous audio module for system integrators. The RB540 comes complete with DSP, stereo CODEC, flash memory and on board antenna. The module offers superior audio quality, power consumption and radio performance making it ideal for high quality Bluetooth headset designs and most stereo and mono audio applications.

The embedded DSP core is an open platform digital signal coprocessor allowing product-enhancing features such as advance audio decoding (MP3, AAC, AAC+), speech recognition, text-to-speech, echo cancellation and noise reduction.

With Class 1 radio, transmission power up to 20dBm, the RB540 series can connect to other Bluetooth devices such as MP3/MD/CD players, mobile phones, and desktop or notebook computers, PDA etc., in range up to 650 ft. (200 meters).

The RB540 series combines Bluetooth Basic Rate (BT 3.0) technology to provide increased throughput, reduced battery consumption and improved security. It also provides faster pairing and allows superior performance in the presence of interference from 802.11 Wi-Fi wireless devices and other 2.4GHz radios.

The RB540 series has on board flash memory available to upgrade the module's firmware, modify parameters, or implement custom features. Radicom is capable to modify the firmware to meet ODM / OEM requirements and create custom Bluetooth functionality to meet OEM's specific needs.

TrueWirelss (TWS) technology allows for streaming A2DP music on the master device which then relays the audio stream to a slave device. It also supports sending data or command to control master and slave through a smart phone or tablet.

With Radicom Research's proprietary True Audio Data (TAD) protocol, the RB540 allows smart phones to transmit data to control devices during music streaming without affecting the audio signal. It supports audio A2DP, handset, hands-free wireless profiles.

There are two platforms available: The RB540 is a surface mount PCB module with on-board antenna. The RB540HM is a DIP, through-hole module continuing the popular Radicom "HM" footprint of 1" x 1". The RB540HM also has an U.FL connector built in for attaching an antenna cable allowing flexibility to place antenna at a desired location.
Features:
Class 1 radio, transmission power up to 20dBm
Bluetooth V3.0, V2.1+EDR support
UART / SPI interfaces (optional for special firmware)
Small sizes: 1.55" x 0.70" x 0.10" (RB540-a), 1.00" x 1.33" x 0.25" (RB540HM-c)
Serial Port Profile (SPP) support
A2DP, AVRCP, HFP / HSP support
64MIPS Kalimba DSP co-processor
Up to 16Mbits flash memory on board (firmware dependent – 8Mbits typical)
Secure communications with 128-bit encryption (optional)
On-board antenna (RB540-a, RB540HM-a)
On-board U.FL connector for external antenna (RB540HM-c)
Support 802.11 wireless coexistence
-40°C to +85°C extended temperature operating
RoHS compliant
FCC, IC and CE (pending)
Applications:
High Quality Stereo & Mono Headsets

Bluetooth Speakers

AV Transmitters

Hand-free Car Kits

MP3 Players

VoIP Headsets

Audio Dongles

Automotive Wireless Gateway

Cordless Phone (TX/RX)

Intercom

Long Range Locators

Specifications:
| | |
| --- | --- |
| Dimensions | 1.55" x 0.70"x 0.10" (RB540-a), 1.00" x 1.33" x 0.25"(RB540HM-c) |
| Device Type | Embedded Bluetooth OEM modules |
| Interface | UART / SPI |
| Data Link Protocol | Bluetooth V3.0, V2.1+EDR |
| Frequency | 2.402 – 2.480 GHz |
| Transmit Power | 20dBm max. |
| Nominal Sensitivity | -90dBm |
| Bluetooth Class | Class 1 |
| Range | Up to 200 meters |
| On Board Flash | 8Mbits, 32Mbits (optional) |
| Security | 128-bit encryption (optional) |
| Power Consumption | Standby: <4mA, SCO Link: <43mA (under calling), A2DP Streaming: <45mA (music playing) |
| Supply Voltage: VDD | 3.0V - 3.6V |
| Antenna | Optional Chip On-board or U.FL connector for external antenna (HM) |
| Baseband Crystal OSC | 16MHz |
| RF Input Impedance | 50 ohms |
| Receiver IF Frequency | 1.5MHz |
| Receiving Signal Range | -90 to –20dBm typical |
| Hopping | 1600hops/sec, 1MHz channel space |
| Operating Temperature | -40ºC to +85ºC |
| Storage Temperature | -40ºC to +125ºC |
| Environmental | RoHS compliant |