Serial TTL Dial-up Modems
Product Announcement from Radicom Research, Inc.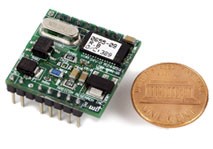 This feature-rich modem module family is fully self-contained including built-in data pump, modem controller and on-board International DAA. This complete solution provides system engineers the flexibility to include modem functionality in system products with minimal engineering resources.
Standard features of the modem include data rates from 300 up to 56 kbps, 14.4 kbps fax rate, voice playback and recording. The modem also provides enhanced features such as Caller ID, Extension Pick-up detect, Remote Hang-up, Quick Connect (V.92 models) and DLG (Digital Line Guard) protection.
Features:
-40°C to +85°C operating temperature
RoHS compliance on select models
Single 3.3V supply
Serial TTL Interface
Enhanced AT Command Set
300 bps up to 56 kbps data speeds downstream
Upstream data rate up to 48 kbps (V.92 models)
Online / voice playback and recording
14.4K bps Fax - Class 1
Generates / Detects DTMF tones in online voice mode
V.44 data compression (V.92 models)
V.42bis and MNP 5 data compression
V.42 LAPM and MNP 2-4 error correction
Automatic format and speed sensing
Low power consumption and sleep mode support
Line-in use, Remote Hang-up, Extension Pick-up detection
Caller ID type I and II for select countries
Call waiting detection
Digital Line Guard (DLG) protection
Agency approvals:

Transferable FCC68, CS03 and CTR21 certifications
EN55022B, EN55024 compliance
c/UL 60950-1 Recognized Component
IEC60950-1, EN60950-1, EN60601-1 (Medical Electronics) compliant
CE Marking
---