The RC3000, 3G Modem
Featured Product from Radicom Research, Inc.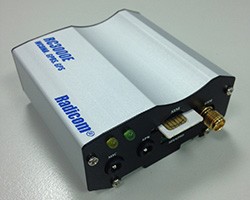 Designed for the global marketplace, the RC3000 is a quad-band GSM/GPRS/EDGE and dual-band UMTS/HSDPA modem that works on frequencies of GSM 850MHz, EGSM 900MHz, DCS 1800MHz, PCS 1900MHz and WCDMA 2100/900MHz, 2100/850MHz or 1900/850MHz. It supports the following radio band configurations.
The GSM3000 supports GPRS Class 10 packet-switched data at speeds up to 85.6kbps. It also supports GSM circuit-switched data (CSD) connections up to 14.4kbps. The CSD cellular connections are ideal for applications that require a quick wireless replacement of an existing point-to-point analog dial-up connection.
The RC3000 is internet-enabled. Utilizing Internet protocols and wireless connection to an IP network, it can send and receive data over the Internet.
The RC3000 WCDMA modem is available with RS232 or USB interfaces to address your applications needs. It provides standard AT commands for
ease of integration into your existing software application. The modem is in the process of PTCRB certification and global RF approvals.
Features:
Quad-band: 850/900/1800/1900 MHz
WCDMA, GPRS, EDGE, UMTS, CSD and HSDPA data transfer support
Internet, Voice, Fax, TCP/IP services
GPS mode: mobile-assisted, mobile-based, standalone
SIM identity card: 1.8V, 3V support
Short Message Services (SMS)
Low power outputs, 2 W for GSM900; 1W for DSC1800 or PCS1900
Power requirement: 5VDC by USB, RS232 or TTL
USB2.0, UART/RS232, SPI, I2C, GPIO, ADC and PCM support
Support USB2.0 Slave mode
USB drivers for Windows 2000/XP/Vista and Linux
SMA connector, GPS connector and SIM card slot available
eCall ready
Housed in rugged aluminum alloy extrusion casing, desktop or panel mountable
Small size, measuring 2.3" x 2.3" x 1.1" (H), 4 oz.
-30°C to +80°C operating temperature
RoHS compliant
FCC, CE, PTCRB certifications (pending)
Available Interfaces::
RS232 2x5 pins D connector
USB Type B mini connector
SMA GSM antenna connector
GPS antenna connector
SIM connector
Mic & speaker audio jacks
Remote control by AT commands
Power supply through USB or RS232 (optional TTL)
Samples Applications:
Remote data logging and report
Automatic meter reading (AMR)
Automated machine-to-machine (M2M)
Fleet / Traffic management
Mobile or fixed internet connectivity
Security systems
Remote medical, environmental monitoring
Remote monitoring of vending machines