Universal Network Hub
Featured Product from Radicom Research, Inc.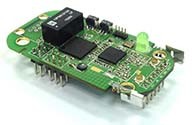 Radicom Research™ RW8300 series is all new Wi-Fi/LAN with Serial Port. It is the perfect networking center solution for embedded system to integrate Wi-Fi, Ethernet or Serial Port into a single platform. The AIO (All-In-One) networking capability provides many functions, such as single port router, Wi-Fi adapter, Ethernet adapter, Hotspot, Wi-Fi Repeater or WLAN bridge, with Serial host capability for various applications.

It can turn any Ethernet LAN port to a WiFi hotspot or connect PC or Laptop into a WiFi Wireless Access Point. Any WiFi device such as iPhone, iPod, PDA, within range can connect to Internet by sharing your RW8300 Access Point.

The RW8300 series is a full embedded system. It does not require CPU host when using as single port router or hotspot mode. This versatile RW8300 series of products offers configuration options to meet the specific system requirements.
Features:
WiFi AP/Client
Router capability
IEEE 802.11b/g/n compatible WLAN adapter
WiFi Serial adapter
Serial Ethernet adapter
20MHz and 40MHz bandwidth transmission
Operates in 2.4GHz Frequency Range
Support WPS mode
Backward compatible with 802.11b/g devices while operating at 802.11n data rates
Frame aggregation for increased MAC efficiency (A-MSDU, A-MPDU)
Low latency immediate High-Throughput Block Acknowledgement (HT-BA)
Long NAV for media reservation with CF-End for NAV release
PHY-level spoofing to enhance legacy compatibility
Built-in TCP/IP stack
Channel management and co-existence
Support Wake-On-WLAN via Magic Packet and Wake-up frame
Transmit Opportunity (TXOP) Short Inter-Frame Spaces (SIFS) bursting for higher multimedia bandwidth
Short Guard Interval (400ns)
DSSS with DBPSK and DQPSK, CCK modulation with long and short preamble
Selectable digital transmit and receive FIR filters
Support DHCP for LAN
One Ethernet port
Extended temperature
Support IEEE 802.11b/g/n compatible WLAN
Support IEEE 802.11e QoS Enhancement (WMM)
Support IEEE 802.11h TPC, Spectrum Measurement
Support IEEE802.3 & IEEE802.3u
Support IEEE802.3x full duplex flow control
Support IEEE802.3az Energy efficiency
Support IEEE 802.11i (WPA, WPA2, WEP). Security ~ Open, shared key, and pair-wise key authentication services
FCC/IC/CE (pending)
RoHS compliant