V92HU-E2-MD (External Dongle)
Featured Product from Radicom Research, Inc.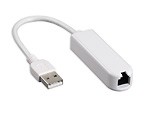 0.55" x 0.75" x 2.5"
IEC60601-1, IEC60601-1-2
UL 60950-1, 3KV Isolation
CE Marking
Global Telecom Compliant
Linux & Windows Support
USB 1.1 and 2.0 compliant
The V92HU-E2-MD is a pen-sized USB "Dongle" modem. Uniquely small, it is designed to become an invisible connection between the system and the Telco wall jack. This special modem is specially designed for use in medical application including office or home monitoring systems and data retrieval. Its small size allows for clean attachment to almost any USB compliant interface. It also seamlessly attaches to medical devices, notebooks laptops or computers where reliable dial-up connections are needed. The V92HU-E2-MD has been IEC60601-1, IEC60601-1-2 certified for medical devices and IEC60950 tested to 3KV dielectric isolation and is also marked for CE Certification.
The V92HU and V92HU-NE PCB assembly is an extremely small fully functional modem module with a 1.1/ 2.0 USB compliant interface designed to be embedded onto the host/motherboard of a medical system. Functionally identical in every aspect as the 'Dongle' version, it is specifically designed to gracefully embed inside your system.
The V92HU-E2-MD, V92HU and V92HU-NE are V.92 compliant providing a plethora of features including data speeds from 300 bps to 56k bps, 14.4k bps fax, on line voice playback and record as well as DTMF Decoding and Generation. In that regard, these modems can be provisioned as an answering machine and can generate and follow DTMF commands in both Answer and Dial Out applications.
This rugged family features a hardware-based modem controller with a built in digital signal processor (DSP). They utilize industry standard "AT" commands and unlike software based USB ("SOFT") modems, the V92HU family manages all modem functionality internally without utilizing your CPU system resources. These modems offer Global Telecom compliances including: FCC Pt. 68 and Pt. 15(USA) Can/CSA Cisper 22-96B, CTR21(EU), ACIF S002)(AUS). This HU family also operates with CDC-compliant Linux, Windows or Mac Operating Systems.
Other features of this fine family include Caller ID, Modem-on-Hold, Caller Waiting Detection, Data/Fax/Voice Call Discrimination and Extension Pickup Detection. Modem customization is available through patch code that can be stored in modems on board memory and can be field upgradeable.
The V92HU-E2-MD, V92HU and V92HU-NE meet RoHS compliance directives, and conforms to all standards required for immediate shipping to US, Canada, Europe and most other major industrialized countries around the world.
Radicom Research, Inc. also provides many other embedded modems with Serial TTL interfacing for medical applications. More details can be seen at our web site www.radi.com or contact us directly at sales@radi.com or (408) 383-9006 x112
Features:
Compatible with both USB 1.1 and USB 2.0 host controllers
Linux (CDC-ACM), Windows and Mac O/S support
USB cable and RJ-11 phone jack built in (V92HU-E2-MD)
AT command set
Up to V.92 56K bps data speeds
Send / Receive 14.4 kbps Fax speed Class 1 and 1.0
On line Voice playback and recording
Data flow control and speed buffering
Automatic format / speed sensing
V.44 data compression
V.42bis and MNP-5 data compression
V.29 Fast-POS support
Concurrent DTMF, ring and caller ID detection
Line-in use, extension pick-up and remote hang-up detection
Caller ID type I and II for select countries
NVRAM for storing AT commands, telephone numbers and country configuration
Agency approvals:

FCC68, CS03, CTR21 (EU) certified
IEC60950-1, EN60950-1 approved
c/UL 60950-1 approved (V92HU-E2-MD)
IEC60601-1 approved
IEC60601-1-2 approved (V92HU-E2-MD)
CE Marking
AU / NZ Telecom compliant tested (V92HU-E2-MD)
FCC15B & UL listed (V92HU-E2-MD)

RoHS compliant