SEC-5.5H-60-17 Sector Antenna
Featured Product from Radio Waves, Inc.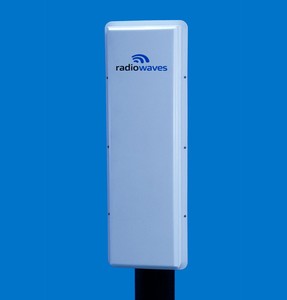 The SEC Sectors Series by RadioWaves offers a full line of high performance sector antennas engineered to provide a broad selection of beamwidths (40, 60, 90, 120 degrees) as well as excellent gain. RadioWaves field-proven pre-assembled antennas and robust easy to install mounting system ensure "set and forget" installation with minimal post-installation maintenance. If it's rugged, it must be RadioWaves!
FEATURES AND BENEFITS
High Performance Sector Antennas - Excellent performance for a wide range of applications
Fully Preassembled at the Factory - Simplifies installation on site and guarantees "factory-tested" quality
Warranty - Industry leading 7-year warranty
Specifications
Operating Frequency Band: 5.25 - GHz
Half Power Beamwidth, Horizontal: 60 degrees
Half Power Beamwidth, Vertical: 8 degrees
Cross-Polarization Discrimination: 25 dB
Front to Back Ratio (F/B): 35 dB
Gain, Low Frequency: 16.5 dBi
Gain, Mid Frequency: 17 dBi
Gain, High Frequency: 17.5 dBi
VSWR: 1.5:1
Return Loss: -14 dB