Industrial Electronic Repair Services
Featured Product from Radwell International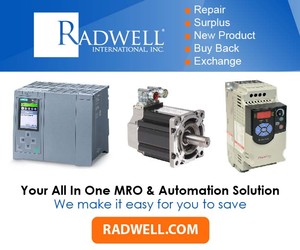 Radwell.com has the solutions for your machine down situations and is a global leader in Supply Chain Management, whether you need to buy, sell, or repair?
• Radwell.com has over 2,600 test fixtures covering the most popular brands; Such as Allen Bradley and Siemens, Plus thousands of other manufacturers.
• Over 100 technicians and a state of the art servo motor shop
• Over 20,000 brand new manufacturers available
• An asset recovery team
• And over $2 Billion in Surplus inventory
Radwell.com provides the most extensive range of supply chain services and test capabilities for the automation industry. From single items to total supply chain management, Radwell.com can support and enhance your supply chain operations.
• We coordinate all your repairs
• Arrange for free weekly pick up
• We can provide a free plant audit to determine your inventory needs
• All repair & surplus come standard with a 2-year warranty, with an optional extended warranty
• And all repairs are done within one of the three Radwell/Radwell.com facilities
In every area, Radwell.com can help you to reduce cost while improving efficiency and productivity. Companies that use Radwell.com save as much as 75% over traditional supply chain options.
We help your maintenance team identify areas to reduce overhead using all or a combination of Radwell.com's cost saving solutions and we can supply you with a free quarterly savings report. Savings on products like:
Allen Bradley, Siemens, Omron, Banner, Red Lion, Sick Optic, GE, Cutler Hammer, ABB, Danaher, Parker, SMC, along with 20,000 other manufacturers. All supplied to you in less time, for less money with industry leading service.
Radwell.com offers options and services that otherwise would be difficult to find economically from one source. Radwell.com makes it easy for you to compare Brand New, Surplus, Repair, Exchange, and selling options. When looking for brand new product you can find it here at Radwell.com. You no longer require multiple vendors to source one product. Consolidate your orders with one vendor (Radwell.com) and save 15%.
When it comes to quality, quantity and savings no one can beat our surplus inventory of over 9 million in-stock items. Our quality surplus allows you to save 50% vs. buying new. Our surplus is tested by our team of quality engineers and our entire surplus comes with a 2 year warranty.

Our Repair option also is backed with a 2 year warranty. By repairing your unit, you can save over 55% vs. buying new. Radwell.com's repair turnaround is under 5 days and there is always a representative ready to help in a machine down situation 24/7.

Our exchange program compliments our repair and surplus options. By exchanging your repair for quality surplus stock you can save 60%. Our huge surplus inventory of popular items allows for a quick solution while also benefiting the environment by keeping industrial electronics out of landfills.
Radwell.com provides strength through Process, Investment, Experience and Reliability. Solutions designed just for you so we can help reduce costs while improving efficiency and productivity. We strive to offer the highest in reliability and truly care about our customers, as we work to provide the best service possible. Remember think savings first, and never sacrifice quality or customer service!