Modular Non Metallic
Featured Product from Ralston Metal Products Limited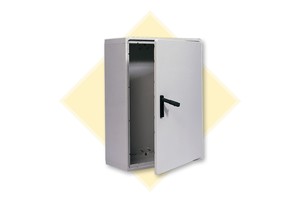 Application
Ralston's UDP Series was especially developed for housing electrical and/or electronic apparatus in all their applications, where because of corrosion, polyester enclosures offer greater advantages than the traditional sheet steel types.Especially recommended for installation in all environments, indoors and outdoors in which dust, humidity, presence of acids, extreme conditions such as snow, ice, tropical climate, etc., make the use of polyester more advantageous. Tests in a moderated climate have shown that the UDP is resistant against outdoor use and aggressive chemical environments for at least 20 years without loosing features.
The UDP permits the construction of many configurations, from pain door to window door, a single or double door, or multi-compartment switchboard. The UDP Series is ideally suited for offshore and coastal areas, petrochemical plants, water treatment facilities and food processing industries.
Construction
All UDP series enclosures are molded from self-extinguishing halogen free fiberglass reinforced polyester. Windows are polycarbonate.