Wall Mount Single Door Enclosures
Product Announcement from Ralston Metal Products Limited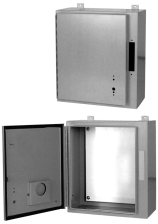 FOR USE WITH: ALLEN BRADLEY 1494F & 1494D
Application: Ralston's N12-AB Series enclosures are designed to house Allen Bradley 1494F flange-mounted disconnect switches and Allen Bradley 1494D flange-mounted operators for circuit breakers. Ralston's N12-AB Series provide protection from dust, dirt and oil.
Construction: All N12-AB enclosures are made from 14 ga. hot rolled steel and have continuously welded seams ground to a smooth finish. The N12-AB enclosure has a folded lip around the door opening to provide complete and maximum gasket contact and to prevent liquids from dripping into the enclosure when the door is open. Each enclosure comes complete with a removable 12 ga. back panel mounted on 3/8 collar studs, and four wall mounting back brackets. These enclosures have specifically punched holes to facilitate the installation of Allen Bradley disconnects and door hardware.
Each enclosure door is easily removed by pulling the pin on the continuous piano hinge and is equipped with oil resistant neoprene gasket. A removable print pocket is standard equipment, as well as 1/4-20 grounding studs. Lock rod guide brackets and door catch brackets are welded to the inside of the door and locking bars are provided with each enclosure.
Enclosures with an "A" dimension of 40" or less will require Allen Bradley two point door hardware CAT #1494F-L1. Enclosures with an "A" dimension of 40" or more will require Allen Bradley three point door hardware CAT #1494F-L2 and CAT# 1494F-L3. Ralston enclosures Cat. #N12-AB-483712 and #N12-AB-603712 require one Allen Bradley 3 point door hardware #1494F-L4.
PLEASE NOTE: DISCONNECTS, OPERATING MECHANISMS AND DOOR HARDWARE ARE NOT SUPPLIED WITH ENCLOSURE.
Paint Finish: All enclosures are phosphatized and finished inside and out with ANSI/ASA 61 grey polyester powder coating. Inner back panels are painted with high gloss white powder coating.
Standards: N12-AB enclosures are built to the requirements of NEMA/EEMAC Type 12 specifications for use with industrial control equipment in ordinary locations, and type 13 for an oil and dust tight enclosure.
N12-AB enclosures are CSA Certified (file #23608) AND UL 508 Listed (file #E136838) type 12.
Special Orders: Custom units made from stainless steel or with special finishes, sizes or punching can be supplied on order.
---