Custom patented solution, decreased cost...
Product Announcement from Raytheon ELCAN Optical Technologies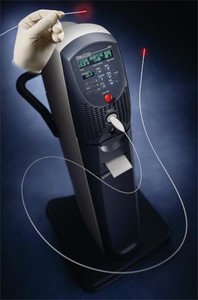 High Precision prototypes were available in just 16 weeks!
Health product manufacturers Indigo, a member of the Johnson & Johnson group, approached Raytheon ELCAN to redesign a urological laser treatment subsystem for use in endoscopic surgery.
Raytheon ELCAN approached the problem with a completely fresh design (which was subsequently patented). This design permitted a much more compact layout of the optical components, with several components actually performing more than one function. By 'multi-plexing' these components, Raytheon ELCAN was able to simplify the entire design and reduce the overall parts count, thereby saving cost while concurrently improving reliability.
The Indigo system is a method of imaging and surgically treating benign prostate enlargement. It is a cystoscopic surgery that is less invasive than conventional treatment. 30W of laser energy in a fibre optic cable is directed to the enlarged prostate and causes a localized area of the gland to atrophy and decay without any resultant pain.
Raytheon ELCAN redesigned the optical bench, provided custom optical coating design (A major advantage lay in Raytheon ELCAN's method of fabricating these optical coatings, which produced very dense layers only fractions of a micron thick on the filters and the lenses. This meant that the performance of these components was extremely stable when irradiated by an intense laser beam, solving the problems experienced by other vendors) and designed the intricate beamsplitter arrangement. The arrangement merges two laser beams and separates the return optical signals at three different wavelengths for diagnostic and surgical accuracy. This beam-splitter also prevents inadvertent laser exposure.
High precision prototypes were available to the Indigo team in just 16 weeks.
The Indigo urological laser treatment is now in full production.
Indigo won the Medical Design Excellence Award in 2004 for this project and honoured Raytheon ELCAN with the prestigious Supplier to a Winner Award for 2004.
---