Digital MicroImager
Product Announcement from Raytheon ELCAN Optical Technologies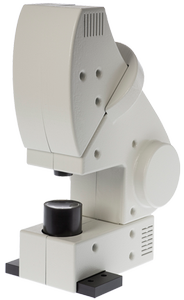 According to Trimark Publications' 2011 analysis of the Global Medical Imaging Markets, developments driving growth and innovation in this market space will be dependent on continued integration of key technologies. The medical imaging market will be propelled forward over the next decade by the expanding imaging capabilities of multi-modal systems.
Medical device manufacturers will need a partner experienced in the integration of hybrid optical modalities including multi-modal fluorescence microscopy, hyperspectral imaging and OCT.
Not many companies can boast of being on the cutting-edge of tomorrow's technology and also of having an accomplished history that goes back to the beginnings of modern optics. Raytheon ELCAN is a legacy Leica company with its roots in photography including the 35mm revolution that started the Leica legend.
Raytheon ELCAN has set the standard for high precision optical design and manufacture for almost 160 years and now holds hundreds of unique patents, inventions and proprietary processes - all gained in the pursuit of optical innovation and customer success.
Raytheon ELCAN unveiled its very compact digital microimager at MD&M East in New York City in June. This proprietary system combines multiple imaging techniques including fluorescence in both epi- and dia-modes.
This modular design allows for custom integration with other imaging modalities. In addition, this device can include our proprietary computation imaging technique "spectrum coding" to extend the depth of field beyond classic optic limitations. View the Digital MicroImager Spec Sheet here.
To learn more about how Raytheon ELCAN Optical Technologies can help bring your concept to market, contact us or visit our website www.ELCAN.com.

Play Digital MicroImager Video
---