Medical Design Excellence Award 2001
Product Announcement from Raytheon ELCAN Optical Technologies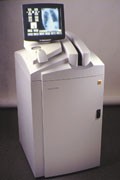 Kodak needed to get their product to market... Fast!
Kodak's medical division needed to get their product to market - FAST. ELCAN Optical Technologies was approached to help design one of the first hybrid systems for digital X-ray for the Kodak CR800. ELCAN was responsible for the development and design of the FastScan optical system in the CR800. The optical bench for this unit was also (re)designed by ELCAN to improve cost-effectiveness, system performance, ease of field
servicing and speed to market.
CR, or computed radiography, scans a traditional x-ray film and digitizes it so it can be stored. This stored image can be distributed to radiologists as a digital file, decreasing the amount of storage space required. CR is a quick and economical process for hospitals and x-ray image centers.
ELCAN re-engineered Kodak's product and delivered a prototype in only 16 weeks.
Production units were available to market in only 24 weeks.
ELCAN not only provided fast production, but by being uncompromisingly cost-effective, Kodak now enjoys a >10% cost savings on an annual basis. The success of this partnership was obvious when the CR800 won The Medical Design Excellence Award (2001) and Kodak honoured ELCAN with their prestigious Supplier of the Year Award.
ELCAN has subsequently designed the optical systems for the Kodak CR900.
Visit www.elcan.com, Email us at sales@elcan.com or Request Your Custom Solution
---