Medical Photonic Applications from ELCAN
Service Detail from Raytheon ELCAN Optical Technologies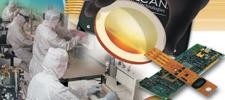 For almost 160 years ELCAN has been a leader in the advancement of imaging, from the very first 35 mm cameras to the very latest in digital radiography. ELCAN holds hundreds of unique patents, inventions and proprietary processes, all gained in the pursuit of optic and electronic innovation and customer success.
Across the spectrum, light is being used in a variety of medical applications including:
· Diagnostic Imaging
· Disease Research, Diagnosis and Treatment
· Neural Mapping
· Cosmetic Treatments
· Non-invasive surgical treatments and the possibilities are endless
The lines between detection, diagnosis, and treatment are becoming increasingly blurred with the advent of revolutionary photonic solutions. Photonics can increase the likelihood of early detection and ultimately stimulate more effective therapies and decrease healing time which can provide a higher quality of life.
ELCAN is a global solution to turn your concepts into viable products, improve on existing design and mass-produce your products to a growing worldwide market.
If you can imagine it, ELCAN will be there!
For additional information:
ELCAN Optical Technologies
450 Leitz Road
Midland, ON L4R 5B8
Canada
Phone:
(705) 526-5401
---