REVOLUTIONARY SOLUTION SEEKS CHALLENGING PROBLEM
Product Announcement from Raytheon ELCAN Optical Technologies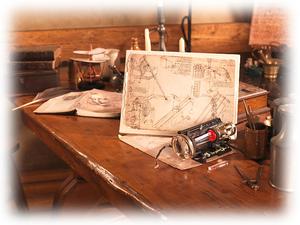 - Optics perfect to within λ/30!
Thanks to the development of innovative new surface finishing technologies, ELCAN Optical Technologies can now offer reflective optical surfaces with <30 nm PV accuracies & micro-roughness <0.5nm rms, perfect to within λ/30. This level of performance was developed for heavily-funded, small-quantity, mission critical defense & aerospace applications, but is now available as predictable, repeatable, cost-effective optics in optical glasses, mirrors, ceramics or single crystals for your medical applications - founded on solutions by ELCAN.
ELCAN's Pioneering Legacy
True to its pioneering legacy, ELCAN Optical Technologies has combined patented and proprietary technologies to create Tri-Technology Multi-Spectral Finishing - TriTec MSF to enable our partners in medical device manufacturing to realize their concepts.
One element of this revolutionary process is Magnetorheological Finishing (MRF), a revolutionary technology patented by QED Technologies of Rochester, New York.
MRF is a computer-controlled precision surface finishing technology. This patented technology utilizes an interferometrically controlled MR finishing slurry (a suspension of micrometer-sized magnetic particles in carrier field), which becomes the precisely controlled polishing tool.
A thin ribbon of the MRF fluid is drawn onto a rotating wheel. An electromagnet below the wheel causes the fluid to stiffen in milliseconds. The fluid returns to original viscosity as it leaves this magnetic field. Shear stress created by "squeezing" the optical surface against the fluid creates polishing pressure over the optical surface. The MR fluid conforms to the local curvature of the optic.
A computer-driven algorithm generates an interferometrically characterized removal map and calculates the dwell time and position in order to accomplish the deterministic removal. Time, temperature and flow are regulated. The polishing tool never dulls or changes allowing the utmost accuracy. The extreme accuracy and computer-controlled stability of MRF (Magnetorheological Finishing) makes the fabrication and polishing of exceptionally precise spherical, aspheric and non-traditional freeform optical shapes possible.
Cost-Effective, Repeatable Technology
Until now, the only approaches available to optics manufacturers required skilled craftsmen, time-consuming manual operations, and dedicated tooling—resulting in long lead times and less predictable results.
The high, interferometrically characterized removal rates reduce cycle times, require less dedicated tooling and produce results an order of magnitude more accurate than DPT alone. Operator proficiency is reached in weeks – not months or years.
Within the magnetic fields the MR slurry provides a polishing pad that accurately conforms to complex shapes, thereby enabling precision polishing of aspheric and other non-standard surfaces. The same procedure is utilized for all substrate materials making MRF optical production ideally suited for both rapid prototyping and low-to-medium volume production runs.
Application of the technology
Estimates for cancers of the breast, colon, rectum and cervix alone, total premature mortality in 2003 to have been approximately 1.7 million years of life lost. Early detection and correct diagnosis are keys to improving these statistics.
Current cancer diagnosis is invasive, time-intensive, expensive, prone to sampling errors and delayed diagnosis. Overcoming these challenges will require development of tools to allow real-time, 3-dimensional, accurate results.
In order to accomplish this, medical device manufacturers are looking toward multi-spectral and/or multi-modal technologies that meet these time and cost requirements. These requirements put further pressure on the quality of the optics as well as the cost-effectiveness of the technologies used to produce them.
This revolutionary solution is seeking a challenging problem – and as it happens, ELCAN Optical Technologies will be there.
Company Profile:
ELCAN Optical Technologies is on the cutting-edge of optical and electronic technology for medical applications - setting new standards for patient care. ELCAN (http://www.medical.ELCAN.com) works with customers seeking to design new electro-optical systems in medical diagnostics, digital imaging and advanced sensing applications. We can provide complete end-to-end optical, electronic and electro-optical solutions to speed your idea to market. ELCAN's global procurement and contract manufacturing takes your idea from initial design and custom prototyping, through to cost-efficient high-volume production.
You have a vision. Let us show you the light.
---