Revolutionary projection - revolutionary optics
Product Announcement from Raytheon ELCAN Optical Technologies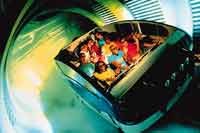 IMAX: REVOLUTIONARY PROJECTION REQUIRES REVOLUTIONARY OPTICS - OPTICS BY ELCAN!:
"SEE MORE, HEAR MORE, FEEL MORE -- IMAX is the ultimate movie experience. With crystal clear images up to eight stories high, and wrap-around digital surround sound, IMAX takes you to places you only imagined." (www.imax.com)
Three entrepreneurial Canadians, who made some of the most popular multi-screen films, designed a new projection system to replace the multi-projector systems in use at the time and overcome a number of technical difficulties. IMAX projectors are still the most advanced, highest-precision and most powerful projectors ever built.
Giant screen IMAX produces brilliant, high-resolution images that extend into the viewer's peripheral vision. Giant-screen IMAX utilizes wide-angle projection onto a flat screen. The IMAX screen has the capacity to display images of far greater size and resolution than conventional movie screens. A standard IMAX screen is 22m wide and 16m high (72.6 x 52.8 ft).
Movie projectors in theatres employ xenon arc lamps because they focus the light very precisely, producing a bright white light that closely mimics natural daylight. This is especially important for IMAX projectors in order to accommodate the IMAX system.
The continuous white light generated has a low lumen effect necessitating the use of more powerful 12-18 kW lamps. These powerful xenon short-arc lamps present their own challenges, not the least of which is the intense heat generated and the associated risk of lens explosion. In 1970, IMAX awarded Ernst Leitz Canada (now ELCAN Optical Technologies) the contract for a new 70mm projection system to overcome these challenges.
In true ELCAN style, a revolutionary projection system was delivered to IMAX. For these large format projection systems, ELCAN met the challenge faced due to the extremely high operating temperature through the design and fabrication of specialized lenses for wide angle and stereoscopic applications.
ELCAN created an unusual 2-part configuration, air spaced, doublet lens system. This system did not utilize adhesives, which would only melt under the extreme temperatures. Proprietary heat reflecting coatings were utilized to further insulate the system in conjunction with water-cooling ports. Special optical glass was used to help limit the risk of explosion.
The IMAX 3D™ process uses two camera lenses to represent the left and right eyes. The two lenses are separated by the average distance between a human's eyes. By recording on two separate rolls of film and then projecting them simultaneously, the IMAX 3D creates the illusion of 3-dimensions on a 2-dimensional screen. In order to simplify the recording and projection process, ELCAN helped to create a single-camera, dual-film projector.
ELCAN Optical Technologies worked closely with ElectroSonic to co-develop a state-of-the-art projection system for the SpiderMan™ ride at Universal Studios™. This projection system demanded custom lenses capable of providing a nearly 180-degree view with no "fish-eye" distortion.
The best motion picture projection systems in the world demand the
best optics in the world…Optics by ELCAN.
Doesn't your project deserve Optics by ELCAN?
ELCAN Optical Technologies has resources and expertise to successfully accomplish advanced optoelectronic and optomechanical development and manufacturing projects for your entertainment applications.
Visit www.elcan.com, Email us at sales@elcan.com or Request Your Custom Solution
---