Chemical Oxygen Demand (COD) Analyzer
Featured Product from Real Tech, Inc.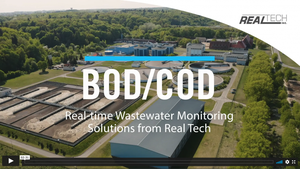 Real Tech's innovative multiple wavelength sensors utilize patent-pending and proprietary technology for superior measurement performance across multiple wavelengths of light using UV LEDs. Many compounds absorb light in the UV-VIS spectrum including organics. The sensors measures organics in a multi-dimensional way that results in improved correlations to water quality parameters such as BOD, COD and TOC.
Real Tech offers both bypass (BL series) and probe (BA-X series) BOD/COD sensor options to allow the right selection for our clients needs. Multiple path length options are also available to ensure our clients have the detection range that meets their monitoring demands.

Play Chemical Oxygen Demand (COD) Analyzer Video