Chromium VI Analysis - Industrial Wastewater
Featured Product from Real Tech, Inc.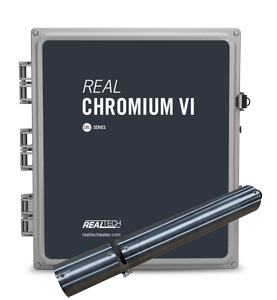 Real-time Hexavalent Chromium (Cr VI) Monitoring
Real Tech's innovative multiple wavelength Chromium VI sensors utilize patent-pending and proprietary technology for superior measurement performance across multiple wavelengths of light using UV LEDs. Many compounds absorb light in the UV-VIS spectrum including chromium VI. Real Tech offers both bypass (CRL series) and probe (CRA-X series) Chromium VI sensor options to allow the right selection for our clients needs. Multiple path length options are also available to ensure our clients have the detection range that meets their monitoring demands.
Chromium VI Sensor
Real Tech's bypass Chromium VI sensor is a cabinet style instrument installed directly on a wall, railing or system backboard. Sample is supplied to the sensor from a pressurized source or alternatively, from an open-channel using an accessory pumping/cleaning system.
Chromium VI Probe
Ideal for open channel or non pressurized monitoring applications, Real Tech's robust Chromium VI probe is a submersible instrument installed directly in-situ using a mounting kit attached to a tank wall, open channel wall or railing.
Multiple sensors can be added to any Real Tech monitoring system to expand water quality monitoring capabilities.
Simple to install, easy to operate, no reagents and no waiting for lab results.
For over 15 years, thousands of clients in over 50 countries have trusted and relied on Real Tech to meet their water quality monitoring needs.
To learn more about Real Tech's practical, accurate, and affordable online water quality monitoring solutions visit us at www.realtechwater.com