Continuous Nitrate Sensor for Drinking Water
Featured Product from Real Tech, Inc.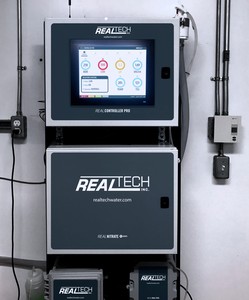 Accurate and Reliable Nitrate Monitoring
Real Tech's Nitrate Sensor utilizes UV-VIS light for measurement as nitrate ions have a natural absorbance peak in the 200-220 nm wavelength range. Common interferences with nitrate measurement at 220 nm, such as organic compounds, nitrite, iron (II), and turbidity or suspended solids are automatically compensated for by measurements at additional reference wavelengths in the UV-VIS spectrum where the interfering compounds absorb, but nitrates do not.
Real Tech's innovative measurement technology combined with our optional automatic chemical cleaning system enables reliable and accurate measurements over time compared to competing nitrate sensor systems which often experience significant measurement drift and require frequent manual cleaning.
Multiple sensors can be added to any Real Tech monitoring system to expand water quality monitoring capabilities.
Simple to install, easy to operate, no reagents and no waiting for lab results.
For over 15 years, thousands of clients in over 50 countries have trusted and relied on Real Tech to meet their water quality monitoring needs.
To learn more about Real Tech's practical, accurate, and affordable online water quality monitoring solutions visit us at www.realtechwater.com