Online Hydrocarbons / Oil in Water Monitoring
Featured Product from Real Tech, Inc.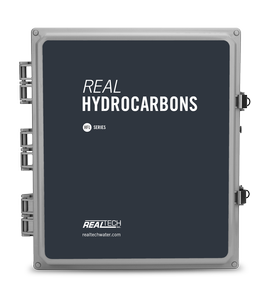 OVERVIEW
Real Tech's Hydrocarbons sensor utilizes fluorescence measuring principal and provides rapid real-time measurement of hydrocarbons (oil) in water and wastewater. Continuous hydrocarbons monitoring can bring significant value to many applications including drinking water, wastewater and environmental monitoring.
FEATURES & BENEFITS
Accurate, reliable and affordable
Real-time hydrocarbons (oil in water) monitoring
Output as oil and/or polycyclic aromatic hydrocarbons (PAH)
Long-life UV LED light sources
Innovative custom calibration for higher accuracy
Bypass style sensor ideal for easy access, maintenance and fouling free operation
Simple to install and easy to operate
MEASUREMENT PRINCIPLE
The hydrocarbons sensor utilizes fluorescence measuring principles with LEDs to excite hydrocarbons that fluoresce and emit light which allows for very low-level detection. Temperature and turbidity compensation allow for accurate and reliable measurement. Benefiting from long-life UV LED lamps, only minimal maintenance or operator
intervention is needed. Measurement can be expressed as oil and/or polycyclic aromatic hydrocarbons (PAH). The bypass style sensor is ideal for locations where the sample stream is pressurized or the water presents potential for hard fouling due to high mineral content as this sensor can be equipped with an automatic chemical cleaning system that is very effective against mineral deposition related fouling.