Online UV254 Organics Analyzer for Drinking Water
Featured Product from Real Tech, Inc.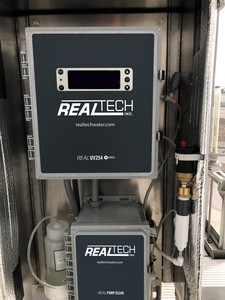 ORGANICS MONITORING WITHOUT REAGENTS
Real Tech's UV254 online analyzer provides rapid real-time measurement of organic matter in water or wastewater. Continuous organic monitoring can bring significant value to many applications including UV disinfection performance and efficiency, coagulation dose optimization, DBP formation potential, source water monitoring and so much more.
The UV254 M series analyzer is cost effective and accurate, making it a practical choice for many applications where alternative organics monitoring solutions would be too costly and complex.
MEASUREMENT PRINCIPLE
The UV254 Analyzer utilizes light at a 254 nm wavelength as most organic compounds, specifically aromatic organics, absorb light at this wavelength. Benefiting from Real Tech's patented Ortho-Beam technology and innovative Split-Sense Pro technology, lamp drift and fluctuations are compensated for, providing an accurate and stable output overtime. Measurement can be expressed as UVT or UV254.
Simple to install, easy to operate, no reagents and no waiting for lab results.
For over 15 years, thousands of clients in over 50 countries have trusted and relied on Real Tech to meet their water quality monitoring needs.
To learn more about Real Tech's practical, accurate, and affordable online water quality monitoring solutions visit us at www.realtechwater.com