UVT Analyzer ensures UV Disinfection Performance
Featured Product from Real Tech, Inc.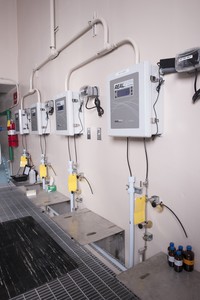 Background
The WTP has a long and interesting history dating back to the late 1890's. In its current configuration the plant provides up to 240 MGD of treated water to the city and nearby communities in Ohio and Kentucky. The plant treats a combination of surface water from the Ohio River with seasonal use of groundwater. Recognizing the need to treat an increasingly difficult to remove array of organics, the WTP began operation of the world's largest granular active carbon (GAC) / biologically active carbon (BAC) treatment system in 1992. Upon implementing the new process, the plant recognized the importance of monitoring organics removal in its conventional coagulation-flocculation process upstream of the GAC system. Several years into operation the WTP adopted some of the early instrumentation for online UV254 monitoring from another instrumentation manufacture. While effective, the WTP found that the limited resolution, calibration requirements, drift, and maintenance requirements of these early UV254 analyzers posed a significant challenge in their use for long-term monitoring and process control.
Accurate and Reliable UVT Instruments for Over a Decade
Always evolving and implementing the latest technologies, the WTP decided to install Real Tech's UV254 real-time monitoring solution in 2011. The plant utilizes four (4) Real UV254 high purity analyzers with their UV disinfection system, with one additional Real Tech analyzer on the finished water discharge for UV transmittance (UVT) monitoring. Together these UVT analyzers allow for continuous online measurement and optimization of UV dose in response to water quality.