UV Transmittance (UVT) for Water UV Disinfection
Featured Product from Real Tech, Inc.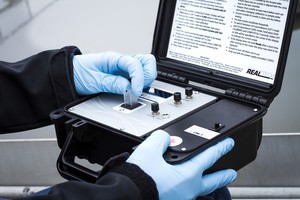 Practical, Accurate and Affordable UV Transmittance (UVT) Solutions
Real Tech provides a complete line of patented and proprietary technologies for UV transmittance measurement to meet any application need, including portable field meters, online bypass analyzers and online submersible probes. Clients' can customize a solution for their application and water type with multiple path length selections, and optional accessories to improve ease of use and performance.
UVT Meter
Real Tech's easy to use portable UVT field meter is ideal for grab sampling in the laboratory or field sampling with optional battery pack. The time saving calibration memory feature eliminates DI calibration prior to test. High accuracy and reliability are achieved with Split-sense technology that compensates for lamp fluctuations and drift.
UVT Analyzer
Real Tech's bypass cabinet style UVT analyzer provides continuous real-time UV254 and UVT organics analysis with built in display. Benefiting from our patented Ortho-Beam and innovative Split-Sense Pro technologies, accurate and reliable UVT measurements are output for the highest level of confidence in organics monitoring.
UVT Probe
Real Tech's submersible UVT probe sensor benefits from a long life UV LED light source. Accurate and stable UVT measurements are output for reliable monitoring in many wastewater organics monitoring applications. Requires Real Tech controller for operation.
Importance of UV Transmittance (UVT) for UV Disinfection
Measurement of UV Transmittance is important for ultraviolet (UV) disinfection of drinking water, wastewater and process water. Low-pressure UV disinfection systems disinfect water using monochromatic UV light at the 254 nm wavelength. The effectiveness of a UV disinfection system is determined by the dose that the system is able to deliver to the target microorganisms in the water. The effective UV dose is dependent primarily on the combined effects of the UV light intensity, the exposure time and the UVT.
UVT varies over time and from site to site as it is related to the quantity of organics, colloidal solids and other material in the water which absorb and scatter the UV light as it passes through the water column. In a UV disinfection system, if the UVT of the water is low, then the UV light is not able to penetrate the water as effectively, thereby reducing the potency of the dose. For this reason, it is very important to monitor UVT and ensure its levels are maintained above the manufacturer's minimum for proper disinfection to occur.
Real Tech's UVT solutions provide significant benefit for many applications including:
Accurate UVT data collection for design and sizing
Portable UVT sampling for quick service troubleshooting
Monitoring performance for assurance of effective disinfection
Low UVT alarm for off specification performance
UV dose calculation with real-time UVT for maintaining compliance
Dose pacing with real-time UVT for energy savings
Peace of mind for compliance with drinking water standards
Improved effluent quality for public health and safety
For over 15 years, thousands of clients in over 50 countries have trusted and relied on Real Tech to meet their water quality monitoring needs.
To learn more about Real Tech's practical, accurate and affordable online water quality monitoring solutions visit us at www.realtechwater.com