NT328G Layer 3 Industrial Ethernet Switch
Featured Product from Red Lion Controls, Inc.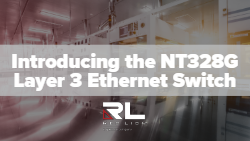 Advanced Layer 3 Managed Switches
Red Lion's NT328G industrial Ethernet switches provide Layer 3 network management with enterprise-class features in rugged packaging. Featuring powerful security, built-in redundancy, data control and prioritization functionality, the NT328G advanced managed switches deliver superior performance and industry-leading, hardware-based routing for advanced support of multiservice networks.
Red Lion's NT328G Layer 3 rackmount industrial Ethernet switches offer 28 high speed ports including four10Gigabit SFP+ ports to meet the performance requirements of bandwidth intensive applications. Designed to meet current and future needs with reliable wire-speed switching performance, the NT328G advanced managed switches deliver superior performance and industry-leading hardware-based routing, network redundancy, advanced security, policy-based traffic control and easy-to-use configuration and management for long-life use in harsh industrial environments.
Connectivity:
NT328G advanced managed switches feature 28 Gigabit ports including four 10 Gigabit SFP+ ports with backwards compatible support of 1000Base Copper or Fiber SFP transceivers.
Performance:
NT328G switches deliver uncompromising performance in harsh environments. Advanced security, priority queuing, IGMP, RMON and SNMP functionality provide best-in-class performance and management.
Environmental:
Housed in rugged metal IP30 rackmount enclosures, the NT328G industrial switches support -40° to 75°C operating temperatures. With CE and UL Class I, Div 2 ratings, these switches are built to last in the most demanding environments.
Security:
NT328G advanced industrial managed switches provide a high level of security utilizing a policy/profile based Access Control List, RADIUS port and user authentication, and TLS/SSL encryption. These switches also offer HTTPS, SSH, SSL and SNMPv3 communication protocols to ensure the safest connections.
>>>>Watch this video as we unveil our company rebranding and how we have grown throughout the years.
About Red Lion Controls
As global experts in communication, monitoring and control for industrial automation and networking, Red Lion has been delivering innovative solutions for over forty years. Our automation, Ethernet and cellular M2M technology enables companies worldwide to gain real-time data visibility that drives productivity. Product brands include Red Lion, N-Tron and Sixnet. With headquarters in York, Pennsylvania, the company has offices across the Americas, Asia-Pacific and Europe. Red Lion is part of Spectris plc, the productivity-enhancing instrumentation and controls company.
Visit our YouTube channel for full access to video and webcast content.