RAM® 9000 Cellular RTUs
Featured Product from Red Lion Controls, Inc.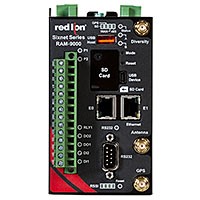 Red Lion's Sixnet® series RAM® 9000 industrial cellular RTUs offer a secure and reliable method of remotely monitoring deployed assets that utilize cellular carrier networks. Ideal for harsh environments, our rugged RAM 9000 RTUs are ideal for connecting to Modbus or DNP3 devices such as SCADA servers, PLCs, remote I/O and other automation equipment.
RAM 9000 cellular RTUs feature 4G LTE connectivity with software selectable multi-carrier support providing fallback to 3G networks. This provides the flexibility to change cellular carrier networks without the need to replace hardware. In addition, with SMS Control there is no need to have an always-on connection; users can utilize SMS to do things like enabling VPN service for on-demand, secure communication.
Connectivity
Natively supporting Modbus, DNP3 and MQTT protocols, RAM 9000 industrial RTUs include high-density I/O with digital and analog and a relay. This helps to eliminate the need for external I/O to control applications. Our cellular RTUs are available with an optional split-LAN (WAN/LAN) architecture and features up to two 10/100Base-T(X) Ethernet ports. They also feature one RS-232 and one RS-485 serial port supporting serial-to-IP conversions.
Industrial Internet of Things (IIoT) Cloud Connectivity
Red Lion's RAM® industrial cellular RTUs feature cloud connectivity, which allows for reliable, secure and scalable communication to leading IIoT cloud platforms. RAMQTT, Red Lion's native MQTT client, simplifies implementations with pre-configured profiles for Microsoft Azure®, AT&T® M2X, Amazon® AWS™ IoT, AutoDesk® Fusion Connect, Nokia IMPACT, Cumulocity, and Telenor Connexion. This functionality enables organizations to easily establish communication and start pushing data to select cloud platforms in minutes. Using the RAM software development kit (SDK), connectivity can be configured for additional platforms, including Telit® deviceWISE®, Set-Point IPwebcontrol, LEC IQ Web SCADA and Skkynet® Skkyhub™, to seamlessly connect, monitor and control equipment.