THE LAST METER YOU WILL EVER BUY
Featured Product from Red Lion Controls, Inc.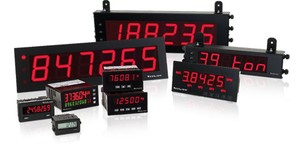 THE LAST METER YOU WILL EVER BUY
Driving down costs means thinking differently. That is why Red Lion's CUB5 and PAX meters offer the capability to add and change option cards as your application and communications requirements change. This field-upgradeable solution saves you money and is the perfect alternative to competitive meters that force you to order a new meter every time conditions change. With our meters, simply order the option card you need for easy, plug-andplay installation. Our wide range of output cards, including communications, set points and retransmitted analog, our meters can handle your challenging applications and changing requirements.
You require choices. We provide you with options.
Red Lion manufactures high quality solutions for your digital and analog panel meter requirements. Our portfolio offers you a wide range of models, sizes and capabilities — from our indicators, to our versatile process meters with communication, you have the ability to add or change capabilities with plug-and-play, field-installable cards...more..
Meters for any application
Display Height .3" (7.6 mm) to 4" (101 mm)
Digital Meters: count, rate, time
Analog Meters: current, process, resistance, strain gage, temperature, voltage
PID Control: current, process, temperature, voltage
Outputs: relay, solid state, retransmitted analog
Various communication protocols
Field-installable option cards for changing business needs
Easy-to-use powerful capabilities of Crimson software
Leading Panel Meter Brand: For 20 consecutive years the readers of Control Design Magazine have voted Red Lion the number one panel meter manufacturer in the industry.
>>>>Watch this video as we unveil our company rebranding and how we have grown throughout the years.
About Red Lion Controls
As global experts in communication, monitoring and control for industrial automation and networking, Red Lion has been delivering innovative solutions for over forty years. Our automation, Ethernet and cellular M2M technology enables companies worldwide to gain real-time data visibility that drives productivity. Product brands include Red Lion, N-Tron and Sixnet. With headquarters in York, Pennsylvania, the company has offices across the Americas, Asia-Pacific and Europe. Red Lion is part of Spectris plc, the productivity-enhancing instrumentation and controls company.
Visit our YouTube channel for full access to video and webcast content.