Replace your lab instruments
Featured Product from Red Pitaya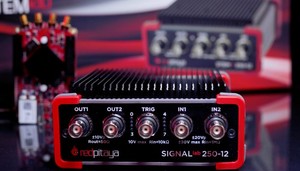 Replace your lab instruments
One open-source platform that will replace bulky and expensive instruments? Meet Red Pitaya and step on this revolutionary road. Choose the right kit for your use case or explore our shop.
Choose the right kit for your use case:
Watch>>>What is Red Pitaya?
Follow us on:
Red Pitaya
Red Pitaya was designed to make people learn programming and realize all types of engineering projects with the help of its growing community and strong support.
From fun DIY projects (syncing X-mas tree lights, making own weather station etc.) to advanced projects for educators, students, makers, professionals would like to prototype their ideas faster and are looking for affordable, highly functional test and measurement equipment.
It consists of easy to use visual programming SW and ready to use open source, web based test and measurement instruments running on a powerful, credit card sized HW.
Red Pitaya makes Real Engineers!