Custom Polyurethane Parts for Rugged Applications
Product Announcement from Redwood Plastics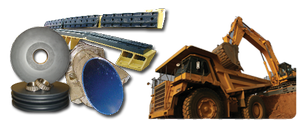 Redco™ Polyurethane from Redwood Plastics, unique in its broad hardness range, offers toughness and durability far beyond the range of most rubbers and plastics making it the perfect solution for rugged applications such as surface and subsurface mining, off road equipment and general industrial machinery.
Polyurethane combines the toughness of metal with the elasticity of rubber and has the ability to withstand the most severe abuse. The hardness of polyurethane is governed by the molecular structure of the prepolymer and not by the addition of plasticizers or fillers.
Due to its remarkable impact and abrasion resistance, parts made from polyurethane elastomers will often outwear rubber, plastic, and metal by margins of 20 to 1.
Other important characteristics include extremely high flex life, cut resistance, load bearing capacity (2500 PSI for Redco™ 750, Redco™ 750XL, and Redco™ 750SXL) and outstanding resistance to weather, ozone, oxygen, and radiation. It performs well from -80 F to +200 F and has excellent resistance to oil, gasoline, and most solvents.
Costly down-time and maintenance expense can be avoided by substituting polyurethane for materials that are not performing to satisfaction.
The unique properties of Redco™ Polyurethane are opening new horizons for the engineer who is designing products for the future.
Be sure to contact Redwood Plastics today to discuss your custom parts application!
---