Redco Outrigger Pads- Lighter and longer lasting
Product Announcement from Redwood Plastics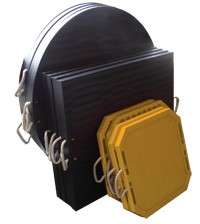 Lightweight, 1/7th The Weight Of Steel
Withstands Loads Up To 3000 psi
Retains Its Physical Properties To -80°c
Will Not Corrode, Rot, Or Rust
High Impact & Wear Resistance
Can Withstand Over 1,000,000 Lbs Of Compressive Load
Lighter and longer lasting than plywood or steel, Redco™ Outrigger Pads stand up to harsh weather and extreme environments to protect you and your equipment from costly accidents.Redco™ Outrigger Pads are available in Redco™ UHMW, Redco™ Nylon and Anti-Slip Varieties.
Rope or Wire Handles Included
SAFETY TEXTURING - Non Slip Varieties Available
CUSTOM Sizes and Shapes Available
Standard Sizes up to 84″ WIDE
Save Time, Save Money… Save Your Strength!
For more information, please click on the buttons above to contact us (send us an email or request a quote)!
---