Achieve Fine Foam Structure in Your Thermoplastics
Product Announcement from Reedy International Corporation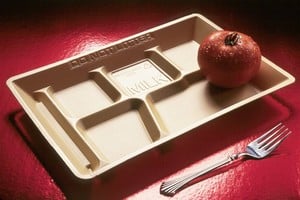 Safoam advanced additive solutions are improving the processes used to make products we all use every day. Generally Recognized As Safe (GRAS) by the FDA, Safoam is the environmentally responsible way to improve your bottom line.
Extrusion

Low-Density Direct
Gas Nucleation

Injection Molding
Gas Assist Injection Molding
Compounding
Compression Molding
Blow Molding
Why Safoam®
Safoam products are non-toxic and food-safe. With no Ozone Depletion Potential (ODP) or Global Warming Potential (GWP) Safoam helps you meet current and future global emission requirements and can replace CFC and HCFC in the production of foam products.

Proactive R & D focused on higher value-added applications, along with free-flowing communication with resin suppliers, equipment designers and plastics processors, allows us to push technology for optimal performance. This collaborative approach leads to multi-faceted cost savings: material reduction, faster cycle times/extrusion throughput rates and lower energy consumption. Improvements in dimensional stability and stiffness of molded parts equals fewer part rejects. Fine cell structure allows for clean cuts in thermoformed sheet. Better post-expansion affords a lighter part at the same specified thickness or thicker parts at same base weight.
What are you working on?
Safoam can be used as a blowing agent, nucleating agent or flow aide in processes including: single- and multi-cavity injection; thick-wall structural foam and gas-assist molding; medium-density rigid extrusions like pipe, profiles and sheet; flexible extrusion including garden hose, CAT-V cable and fishing line; direct-gas nucleation of low-density sheet for food packaging; compression-molded closures for bottles and jars and so much more. Imagine the possibilities…
---