Dsub Connectors
Featured Product from Rego Electronics Inc.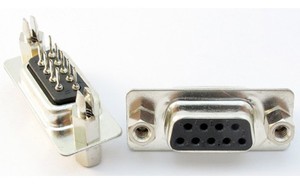 D-Subminiature (D-sub) electrical connectors are commonly used for the RS-232 serial port on modems and IBM compatible computers. It is used in many different applications such as computers, telecommunications, testing and measurement instruments. Rego's D-sub connectors offer 2 row and 3 row with the 9, 15, 25, 26, 37, 44, 62 positions, right angle type and vertical type. Half pitch pin type and ribbon type are also available. We offer the following sub-categories,
Dsub 2 Row Connectors
Dsub 3 Row Connectors
Dsub Half Pitch Pin Type Connectors
Dsub Half Pitch Ribbon Type Connectors
If you are unable to locate the product you're looking for, please contact us for assistance.