SIM Card & Smart Card Sockets
Featured Product from Rego Electronics Inc.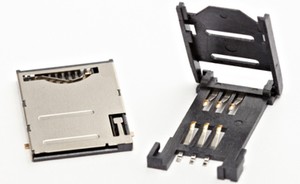 SIM cards store network-specific information. They are used to authenticate and identify subscribers on the network. There are four different formats: full-size SIMs, mini-SIMs, micro-SIMs, and nano-SIMs. Rego's SIM card connectors include full-size SIM sockets, mini-SIM sockets and micro-SIM sockets, ejection mechanism push-push types, hinge types and push-pull types available for customer's design selection. If you are unable to locate the product you're looking for, please contact us for assistance.
Smart Card Sockets
Product Series -
Smart card PCB mount socket

Features & Benefits -
Available for right angle-top mount type
100,000 mating cycles
High quality, high reliability

Target Market -
Network Computer, Set Top Box, Credit Card Payment Machine, Access Control Device
Mini SIM Card Sockets
Product Series -
Mini SIM card PCB mount socket

Features & Benefits -
Available for right angle-top mount type with push-push / push-pull ejectors or hinge type locking mechanism
High quality, high reliability

Target Market -
Embedded Boards, Vending Machine, Industrial Cell Phone
Micro SIM Card Sockets
Product Series -
Micro SIM card PCB mount socket

Features & Benefits -
Available for right angle-top mount type with push-push / push-pull ejectors or hinge locking type mechanism
High quality, high reliability

Target Market -
Embedded Boards, Vending Machine, Industrial Cell Phone
Nano SIM Card Sockets
Product Series -
Nano SIM card PCB mount socket

Features & Benefits -
Available for right angle-top mount type
High quality, high reliability

Target Market -
Embedded Boards, Vending Machine, Industrial Cell Phone