Spring Type Battery Connectors
Featured Product from Rego Electronics Inc.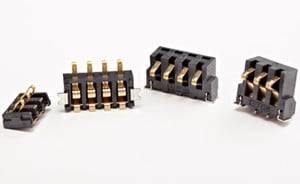 Spring type battery connectors are small battery packs connecting with handheld devices or a charger. Rego offers a full range of spring type battery connectors, pitches available at 1.6, 2.0, 2.5, 3.0. 3.15, 4.2, 5 and 6mm, right angle types, vertical types and various heights. If you are unable to locate the product you are looking for, please contact us for assistance.
Right Angle
Product Series -
2.5mm pitch Spring type battery right angle PCB mount connectors

Features & Benefits -
A full range of products include high current rating at 2A, with positions from 02 to 09 and various mated heights available
High quality, high reliability
Please contact us for detailed specification

Target Market -
Industrial Handheld Scanner, Industrial Cell Phone
Vertical
Product Series -
2.5mm pitch Spring type battery vertical mount connectors

Features & Benefits -
A full range of products include high current rating at 2A, with positions from 02 to 09 and various mated heights available
High quality, high reliability
Please contact us for detailed specification

Target Market -
Industrial Handheld Scanner, Industrial Cell Phone