Tier Sheets- Reusable, Sanitary Separator Solution
Product Announcement from Rehrig Pacific Company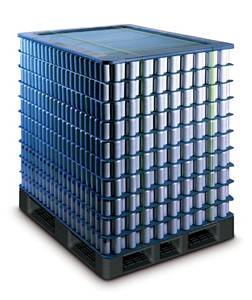 Rehrig Pacific Tier Sheets are the ideal replacement for both fiber and corrugated sheets and are manufactured to exceed industry packaging standards. Rehrig's reusable Tier Sheets are designed and produced with precision to retain the right amounts of rigidity and strength so they won't prematurely crack or tear, resulting in immediate cost savings.

Plastic Tier Sheet Benefits
Moisture, chemical and bacteria resistant
Attractive payback on investment
Increased load stability
Seamless integration into automated systems
Compatible with all pallets
Buy-back program available
Customizable
Available in standard or custom sizes and thicknesses
Materials can be blended to meet different stiffness requirements
Surface coefficient of friction (COF) can be adjusted to meet your specifications
Standard and custom colors available
Options for printing company names and product identifiers
Durable & Sustainable
Made with proprietary co-polymer polypropylene (PP) resin
100% recyclable
Reusable
Pooling options available
Cleanable/washable
Snag-free rounded corners " 2" radius
Static resistant
Made with a proprietary co-polymer polypropylene resin, Rehrig's Tier Sheets can be customized to meet your exact requirements. Typical sizes range from 20" up to 50" in width, from 0.08" to 0.10" in thickness and to nearly any length. A large number of standard and FDA compliant colors are available. Customized printing options are also available for company names and product identification purposes.

Unlike fiber and corrugated sheets, plastic tier sheets won't absorb moisture that causes deformation and deterioration and can harbor bacteria and other forms of contamination. Rehrig Tier Sheets can be washed and disinfected, delivering a higher level of product protection. These plastic sheets are extruded with the proper coefficient of friction, resulting in improved load stability and seamless integration.

Withstanding both cold and hot-humid environments, every Rehrig Tier Sheet is manufactured to deliver a longer service-life, once again delivering on our promise of greater sustainability. And, when their useful life is over, Tier Sheets are 100% recyclable. Rehrig Pacific will even work with you to develop a customized buy-back program which insures a greater value for used Tier Sheets.

As a total solution provider, we offer asset management and reverse logistics solutions which can deliver significant additional savings. Rehrig Penn Logistics can provide a customized pooling program which will manage and track your investments, including pallets and other dunnage as well. RPL can also clean, return or recycle every tier sheet insuring maximum value. Our nationwide team of experts is ready to meet with you and plan an optimized and sustainable solution that will improve efficiency and reduce costs.
---