Bolt-Down Bollards
Product Announcement from Reliance Foundry Co. Ltd.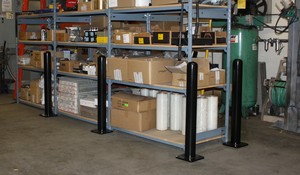 Bolt-down bollards are used to create protective, visual perimeters around valuable equipment and merchandise. They protect both assets and personnel and they feature a versatile architectural style that can be used in almost any environment. These asset protection bollards can be bolted to existing concrete surfaces in a matter of minutes to protect electrical circuit boxes, gas and water meters, factory apparatus or any other equipment that is set in a high traffic area. But that's not all! These versatile bollards can be used in virtually any low-impact, indoor or outdoor application to mark out intended routes or to limit access to restricted areas.
Reliance Foundry offers two models of bolt-down bollards. Both are composed of highly durable, schedule 40 steel and can be finished in one of six different-powder coated colors. They feature an 8" x 8" base plate with holes in each corner. The model R-7236 bollard is 36" tall, while the model R-7242 bolt-down bollard stands at 42". Bolts can be set through holes on each corner of the base plate and inserted into concrete anchors to secure the bolt-down bollard. In matter of minutes, a protective perimeter can be created that will warn passers-by of the presence of susceptible equipment or merchandise. Bolt down bollards employ the same installation method as decorative, surface-mounted bollards and create pronounced, low-impact visual perimeters that protect valuable equipment that lies in high-traffic areas.
Bolt-down bollards are sometimes called sacrificial bollards, as they do not offer a high level of impact resistance. They keep vehicles and machinery at a safe distance, and when accidents happen - they absorb the initial impact. If they are struck or knocked over, they can be repaired or re-installed easily and their economical price means that replacing them won't break the bank. Bolt-down bollards are a cost-effective solution for providing low-impact protection for equipment, merchandise and personnel. They are highly durable, architecturally versatile and can be used in both indoor and outdoor applications.
---