Solar-Powered Lighting Bollards
Product Announcement from Reliance Foundry Co. Ltd.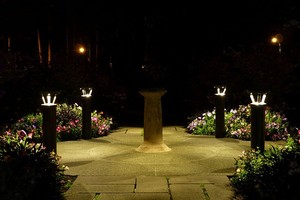 Solar-Powered Lighting Bollards are designed to be tough. Partnering with First Light Technologies, Reliance Foundry has created an efficient lighting bollard that will stand up to the all the challenges of modern streetscapes.
Composed of high-grade materials, Solar-Powered Lighting Bollards feature the same design attributes that have made Reliance Foundry's standard bollards the proven industry leader, and include new, innovative lighting technologies. Combining these two elements has resulted in the creation of a modern lighting bollard that can stand up to abuse.
"When installing any outdoor lighting fixture, protecting the electronic components can be a challenge and we recognize that vandalism poses a severe threat on every modern streetscape," says Reliance Foundry Sales Manager Rick Pasternak. "We kept this in mind and designed these bollards to withstand the demands that would be placed on them in the event of a potential riot," he adds.
Featuring the strength of steel bollards and powered by First Light Technologies' intelligent functionality, Reliance Foundry's solar-powered bollards provide an innovative light management system that presents several light output options and offers an exceptionally long service life. Designed with durability and vandalism-resistance in mind, these solar-powered lighting bollards have a base that is fabricated from high-grade steel and a cap that is composed of cast, low copper aluminum. Both the base and the cap are powder-coated to resist elemental damage. The powder coated surface provides aesthetic value and will not peel, crack or chip as conventional painted surfaces do. With thousands of installations across North America, the resiliency of Reliance Foundry's bollards has been demonstrated time and time again in the field. These illuminated bollards offer the same strength, durability and weather resistance traditionally found in Reliance Foundry's line of metal bollards, but what makes them truly remarkable is the level of durability and vandalism-resistance provided by the lighting fixture.
The engineers at First Light Technologies realized that the fixture that held the electronic components and light management technology would have to be highly protective. At this point, solar powered lighting bollards were only commercially available with rather fragile electric components. The challenge for the engineers was creating an encapsulation that would allow the fixture to withstand the harsh, external abuse of modern streetscapes. After rigorous testing and intense study, high grade materials were selected and a design was developed. In the outdoor lighting industry, polycarbonate is accepted as a vandal resistant and extremely durable material. Because it is both high-impact and UV resistant, it was selected for the solar panels. The electronic components that host the EMS technology are not delicate or sensitive. They are robust and feature the added protection of the outer casting. High grade cast aluminum was chosen for the outer casting and it was designed in a manner that would maximize the protection given to the already resilient lighting fixture. The experts at First Light have met the challenge of creating an extremely durable lighting fixture and it has exceeded all expectations.
"In outdoor lighting applications, there are enough demands to consider without having to worry about the structural integrity of the light," says First Light Technologies Managing Director, Sean Bourquin "For the Solar-Powered Lighting bollard, we used top-quality materials and designed a lighting fixture that is worry-free."
Reliance Foundry's Solar-Powered Lighting Bollards have undergone rigorous testing and the results have showcased an outstanding strength and durability. First Light Technologies subjected the lighting bollards to the potential stresses that would have to be endured during a riot and the results have been very positive. The bollards endured being struck with beer cans, rocks, baseball bats and hammers. The polycarbonate lighting fixture even remained unscathed after a cigarette was extinguished on its surface. The lighting fixture showed no signs of damage and operated at full capacity after the "attacks".
The proven durability of Reliance Foundry bollards has found its match in the vandalism-resistance of this lighting system. The pairing has created a solar-powered lighting bollard that will truly stand up to the harshest demands of a modern streetscape… even those of a potential riot!
Visit Reliance Foundry's bollard web site to see their entire selection of solar bollard products.
---