5G and MIMO using Wireless InSite
Featured Product from Remcom (USA)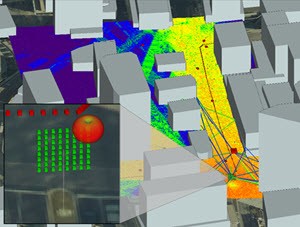 With a tremendous increase in the number of connected devices and mobile data demand predicted over the next decade, the wireless communications industry is exploring new technologies to accommodate 5G wireless data systems, including MIMO (multiple input multiple output) technology. With Massive MIMO, large antenna arrays are able to provide data streams to multiple users within the same frequency band in a small cell. In an urban environment, signals can travel over many paths; this multipath causes the channel characteristics across an array of antennas to be extremely complex, particularly with devices in motion. Simulating these effects is critical for predicting MIMO system performance.

Remcom offers a unique ray tracing capability for simulating MIMO antennas for 5G, WiFi, and other applications relevant to today's rapidly advancing technologies. The MIMO version simulates the detailed multipath of large numbers of MIMO channels while overcoming the increased level of computations required for traditional ray tracing methods.

MIMO Capabilities in Wireless InSite
Wireless InSite's MIMO capability makes it possible to predict accurate path data between each transmitting and receiving element with precision and reveals key channel characteristics in a timely manner. With optimizations that minimize runtime and memory constraints, Wireless InSite is able to efficiently simulate even the large arrays present in Massive MIMO systems.
Wireless InSite simulation of a Massive MIMO base station in Rosslyn, VA

Wireless InSite's MIMO array builder gives users the ability to create 1D, 2D, and 3D antenna arrays. Users have control over every aspect of their model and can define unique antenna patterns and orientations for each element. All data is accessible, allowing results to be visualized within the context of the scene, as a 2D plot, or exported to a file. Post-processing options include received power, complex channel matrix or H-matrix, complex impulse response, times of arrival, directions of arrival, and directions of departure for multipath.
Learn more about 5G and MIMO on Remcom's website...
Webinar: Simulation of Massive MIMO Beamforming in an Urban Cell
Webinar: Detailed Indoor Channel Modeling with Diffuse Scattering for 5G mmWave Wireless Networks
Application Example: 5G Massive MIMO Outdoor Communications Analysis