Wireless EM Propagation Software-Wireless InSite®
Featured Product from Remcom (USA)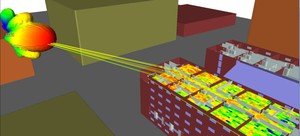 Wireless InSite is site-specific radio propagation software for the analysis of wireless communication systems, wireless networks, sensors, radars, and other devices that transmit or receive radio waves. The software provides efficient and accurate predictions of propagation and communication channel characteristics in complex urban, indoor, rural and mixed path environments.
Wireless InSite provides solutions for many applications, ranging from military defense to commercial communications:
Base station coverage analysis
Shadowing and multipath effects from buildings, indoor floorplans, and terrain
Wireless backhaul stations
Radar propagation
Indoor WiFi
Moving vehicle or aircraft
LTE and WiMax throughput analysis
Tower placement for urban coverage
Ad-hoc and temporary networks
Microcell coverage

Propagation Models:
Wireless InSite includes models for urban, indoor, and rough terrain. See http://www.remcom.com/wireless-insite-models/ to learn more.

Multiple Versions to Meet Varying Needs:
Wireless InSite Standard
Suite of high-fidelity propagation models based on ray-tracing, finite difference time domain, and empirical techniques. Site-specific models can provide detailed predictions including E and H fields, received power, and propagation loss and gain. Signal and channel characteristic outputs include delay spread, direction of arrival and departure, and mean time of arrival. Options include detailed urban (indoor and outdoor) and longer-range propagation over rough terrain.
Wireless InSite Real Time
Suite of propagation models intended to balance fidelity and speed, providing site-specific urban propagation models, but with rapid calculation capability. Models provide estimates at a tiny fraction of the run time, calculating point-to-point links in less than a millisecond.
Wireless InSite Professional
Bundles the full suite of models from Wireless InSite Standard and Real Time versions.
Wireless InSite APIs
Application Programming Interfaces (APIs) allow users to develop their own custom applications and call Remcom's powerful propagation models through plug-in DLLs. Remcom offers the API to our Full 3D Ray Tracing model in the Standard version and to our full Real Time Suite.
To see a comparison of the versions and the propagation models that each offers, please see the Wireless InSite Version Comparison.